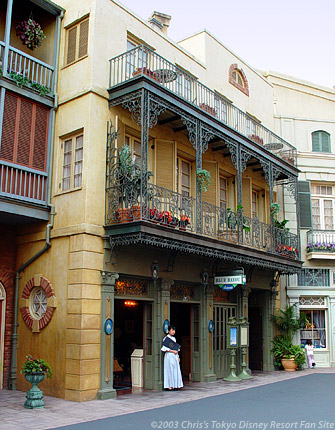 The Blue Bayou is one of the most elegant, atmospheric, and expensive restaurants in Tokyo Disneyland. What makes this place so special? For one thing, the food is outstanding. On the menu are items like Lobster Thermidor, beef tenderloins with red wine sauce, curried veal stew with vegetables, and a variety of seafood dishes. The restaurant features table service, and your waiter or waitress is always close by and ready to serve, but never intrusive.
What really makes this restaurant special is its location. The restaurant is inside the Pirates of the Caribbean attraction—inside the first "scene" of the attraction to be exact, the setting of which is a sleepy New Orleans bayou. It's dark and moody; you can see the moon and the stars (regardless of what time of day it is), and flittering fireflies contribute a little lighting. There's lots of water, and the boats of the Pirates of the Caribbean perpetually float gently by. The swamp is home to a variety of unseen creatures like frogs and crickets, which provide a bit of ambience for the ears while you're dining (rest easy, they're Disney creatures, not real ones).
The entrance to the Blue Bayou Restaurant is around the corner to the right of the Pirates of the Caribbean attraction. One tip: when you go, ask for a "water seat" (your Japanese host will understand if you say it in English). This will put you near the water, giving you the best view of the bayou and the Pirates of the Caribbean boats.