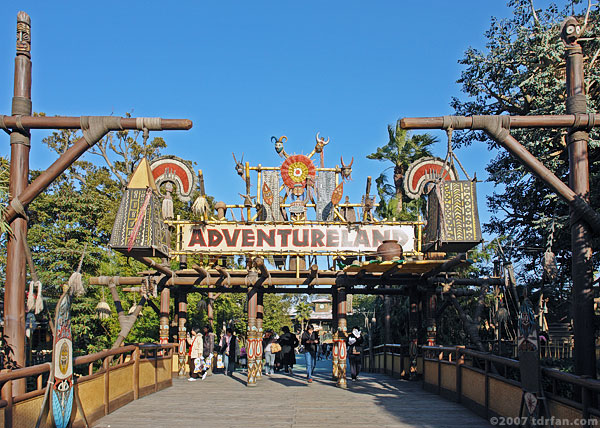 Adventureland is actually two lands in one: one area is in the style of the New Orleans French Quarter, and the second has a tropical, South Seas flavor to it. If you've been to the original Disneyland in California, you'll recognize Tokyo Disneyland's Adventureland as an amalgamation of Adventureland and New Orleans Square.
Thematically, Adventureland is one of my favorite lands in Tokyo Disneyland. Like Disneyland's New Orleans Square, the "French Quarter" section of Tokyo Disneyland's Adventureland is filled with ornate latticework, and everywhere you look you'll see something interesting (make sure to occasionally look up as you're walking around). In the "tropical" section of Adventureland, lush green plants are everywhere, and lots of flowing water and picturesque waterfalls can be found around every corner.
Many of Adventureland's shops carry unique merchandise that can't be found anywhere else in the Park. You'll also find a couple of Tokyo Disneyland's biggest attractions in Adventureland, namely the Pirates of the Caribbean and the Jungle Cruise (although the "Pirates" is not nearly as popular in Japan as it is in America). Adventureland also houses what is probably the most elegant restaurant in Tokyo Disneyland (and one of my personal favorites), the Blue Bayou.