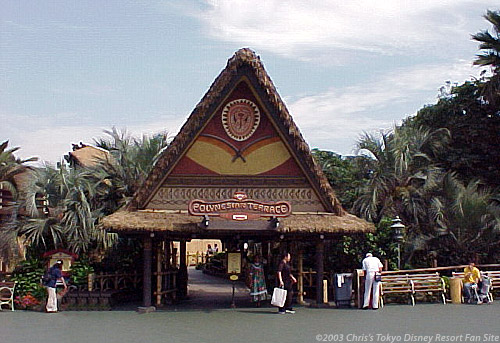 The Polynesian Terrace Restaurant is home to one of the two live dinner shows at Tokyo Disneyland (the other being the Hoop-Dee-Doo Revue at the Diamond Horseshoe in Westernland). The show features some beautiful and talented Hawaiian dancers who are actually from Hawaii, along with singers and a live band. You'll also find many of the popular Disney characters in the show, including none other than Mickey and Minnie Mouse themselves.
If you want to see the show you're going to have to plan ahead. The show requires reservations, which sell out quickly. The only way to get a decent seat is to arrive at Tokyo Disneyland before it opens, and when the gates open move as fast as you can to the reservations booth. If you're even a few minutes late you'll find a line of several hundred people—no kidding. There are several shows each evening, and reservations are on a first come, first serve basis.
The food is good, but the choices are limited to either one of two dinner sets: beef or seafood. You must specify which you want when you place the reservations, so if you're going to stand in line while the rest of your party enjoys Tokyo Disneyland make sure you ask them what they want to eat in advance. Also, you pay for the dinner when you make the reservations. Note: the reservation booth is across from the Polynesian Terrace Restaurant, next to Squeezer's Juice Bar, and not at the restaurant itself.
The Polynesian Terrace Restaurant also has an all-you-can-eat lunch buffet, but there is no entertainment.