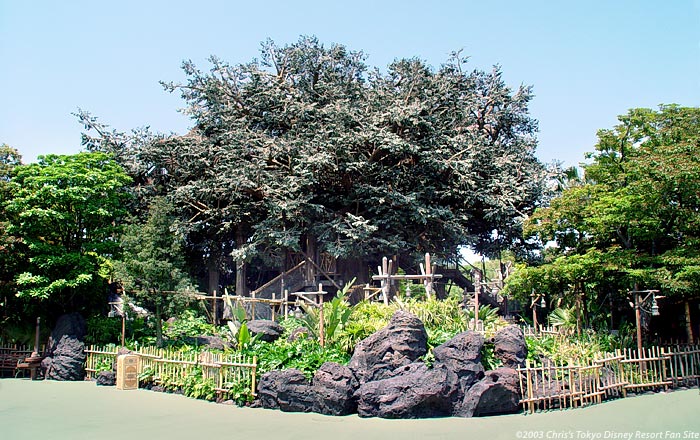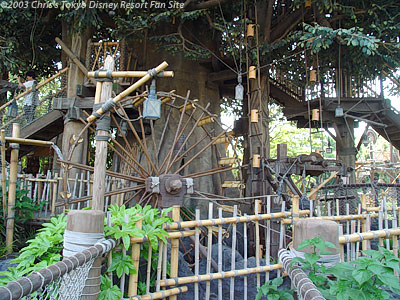 The Swiss Family Treehouse lets you explore a replica of the makeshift treetop home from the all but forgotten Disney movie, "Swiss Family Robinson." In the movie, the Robinson family is shipwrecked on a secluded island and must fend for themselves using only items they find on the island, the remains of their shattered ship, and of course their ingenuity.
In this attraction you walk through the tree house, past various scenes of living quarters, recreation areas, a dining area, and other "rooms", all meticulously detailed. Although you'll be in a tree, this is a Disney tree and you don't have to worry about climbing any branches. You will have to climb stairs, and quite a few of them. The climb is not especially difficult, and there are plenty of places to stop and rest.
As far as the "thrill factor" goes, there's almost none (the tree does tend to sway a bit though). Despite the lack of in-your-face excitement, I love this attraction. It's the ultimate clubhouse that I dreamed of as a kid but could never have. There's lots of flowing water and picturesque waterfalls throughout the attraction, and the atmosphere is nothing less than serene. The centerpiece here is a waterwheel which, through a series of ropes, wheels and bamboo cups, supplies water to various areas of the tree house.
This Swiss Family Treehouse is a close copy of the original one in California's Disneyland, but unlike the one in California this tree house does not overlook the Jungle Cruise (it doesn't overlook much of anything really). However, you can get some dramatic treetop views of Tokyo Disneyland (Westernland in particular). There's no dialog, but the signs are in both Japanese and English. There's never a line for this attraction, so you can visit it on the busiest of days without having to wait.