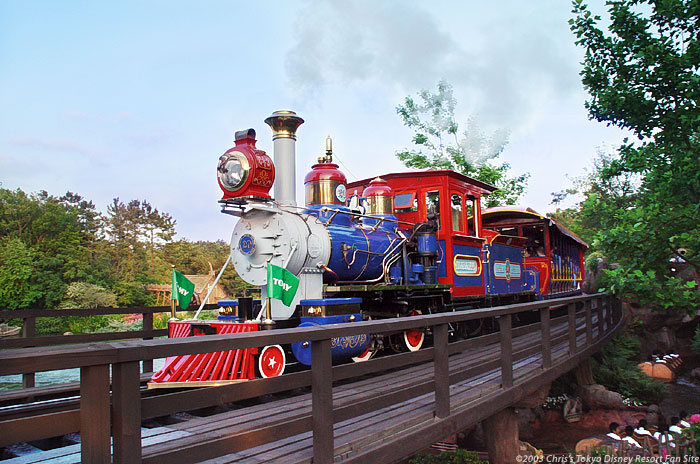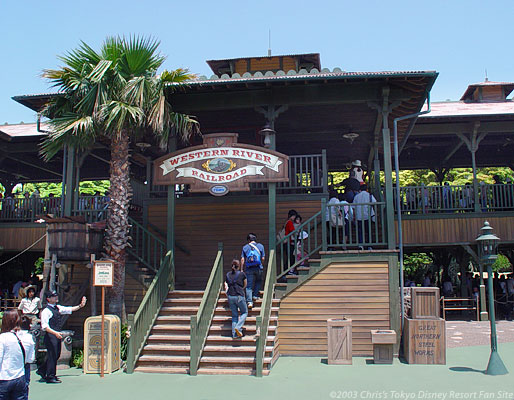 It's a well known fact that Walt Disney loved railroad trains. Indeed, from its very inception, Disneyland (in California) has featured steam-powered trains running on a track which circles the perimeter of the park. The Western River Railroad is Tokyo Disneyland's version of the steam-powered railroad, but there are several noticeable differences which separate it from its counterpart in America.
Unlike Disneyland in America, the trains in Tokyo Disneyland do not run around the entire park. The train tracks in Tokyo Disneyland run primarily through Westernland, with parts of the track running through Adventureland and Critter Country. Also, while Disneyland in California has four train stations (the most prominent of which is located at the main entrance to the park), Tokyo Disneyland has only one, found next to the Jungle Cruise in Adventureland. Herein lies another difference: with only one station, Tokyo Disneyland's railroad can't be used as transportation from one area of the park to another.
I actually prefer Tokyo Disneyland's format for the railway over California's Disneyland. In the countless times I visited Disneyland in California, I never got used to seeing the turn-of-the-century locomotives pull into Tomorrowland. On the other hand, seeing the train station as you first walk through the main gates of Disneyland in California is a iconic site that I do miss at Tokyo Disneyland.