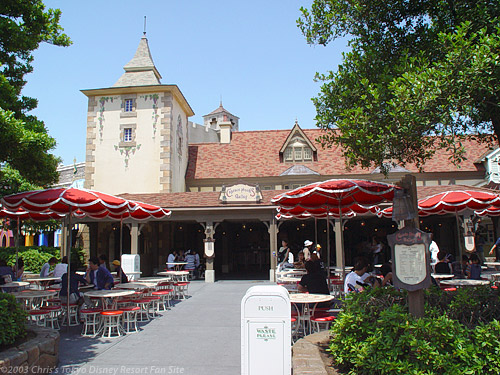 Captain Hook's Galley serves up slices of pizza in two varieties: seafood, and bacon & pineapple. Unless you're a big fan of seafood pizza, I recommend the bacon & pineapple.
There are three places you can find pizza at Tokyo Disneyland, and I'd rate Captain Hook's Galley as #2 on the list. My favorite place, Pan Galactic Pizza Port, wins the award mainly because it's got terrific Disney atmosphere. But the pizza at Captain Hook's tastes just as good, and because the toppings are different you may prefer this restaurant (I like the sausage and mushroom over at Pan Galactic, but that's just personal preference).
Although there appears to be an abundance of tables, seating here can be difficult to find (especially if it's raining), so I'd recommend you'd check to see if there are open tables before buying your food.