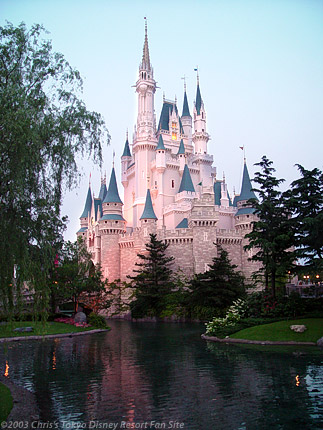 A castle is literally the centerpiece of every Disneyland theme park (or Magic Kingdom, as it's called in Florida). At Disneyland in California, the original Disney castle is called Sleeping Beauty Castle. In Tokyo Disneyland, it's Cinderella Castle (not Cinderella's Castle as it is sometimes incorrectly referred to). In addition to the difference in name, Tokyo Disneyland's castle—which is a close copy of the castle at Disney World in Florida—is much larger than the castle at Disneyland in California.
In the front of Cinderella Castle is a large stage where some of Tokyo Disneyland's biggest live shows take place. From year to year shows generally coincide with the Park's current promotion; in 1994 there was a wonderful production based on the movie, "Aladdin", and in 1998 the show was a celebration of Tokyo Disneyland's 15th anniversary. For many years there was was no seating (you sat on the ground!), but thankfully they have installed benches now.
In addition to live shows during the day, the castle is occasionally the star of a spectacular show at night. In past years, the castle has been part of the evening fireworks show, with displays shooting up from the castle itself. The fireworks shows change from year to year, so you may want to check at an information booth to find out if the castle is part of the show. If so, make sure you're in a place you can get a good view of the castle; fireworks shooting up from the castle is an awesome sight, and something not to be missed.