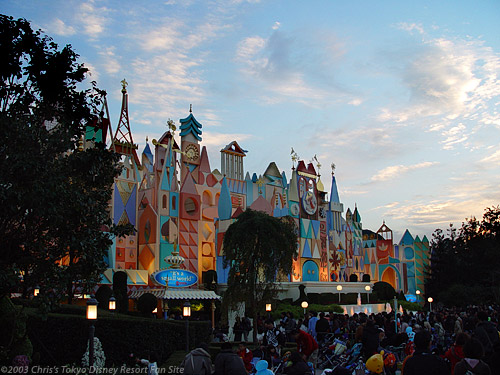 It's A Small World takes you on an enchanting boat ride to meet the children of the world. Hundreds of colorful, animated dolls dressed in culturally-themed costumes populate scenes from various regions of the world. This ride can be enjoyed by all ages, and if you've never been to a Disney theme park before it's something not to be missed.
Tokyo Disneyland's version of this classic Disney attraction has an exterior much like the California version, complete with towering spires and the famous It's A Small World clock. The interior is more like the Orlando version. The queue and loading areas are indoors, like most of Tokyo Disneyland's attractions. Personally I much prefer the outdoorsy-ness of the California version with its fanciful topiary garden, but because of Japan's sometimes unruly weather the indoor loading area is more practical.
It's A Small World's famous theme song is sung primarily in Japanese, although—in keeping with the spirit of the international theme—you'll hear it in a variety of languages throughout the attraction.