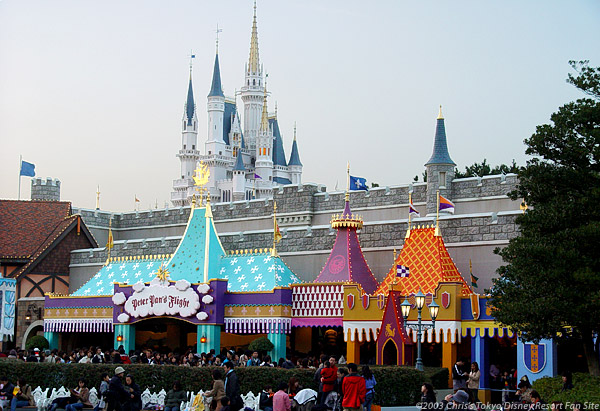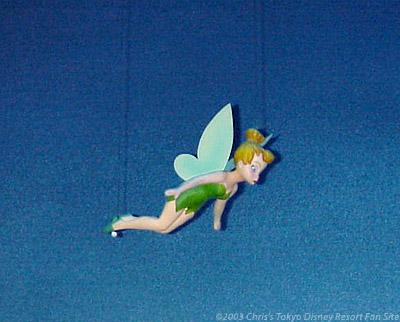 Peter Pan's Flight takes you on a fanciful flight over old London and through scenes from the classic Disney move, "Peter Pan."
Peter Pan's Flight is similar to two other Fantasyland "dark rides": Snow White's Adventures and Pinocchio's Daring Journey. There is one significant thing that sets Peter Pan's Flight apart from the other two: in Peter Pan's Flight, you're riding in a car that's suspended from a rail. Most of the scenes in this attraction take place below the car, which gives a sensation that you're really flying. The cars are fashioned to look like sailing ships, another element that makes this attraction special. Alas, the very thing that makes this attraction unique is one of its major drawbacks: each car holds a maximum of two regular-sized people. This means that wait times to board this attraction can be long, as the line moves quite slowly.
Peter Pan's Flight at Tokyo Disneyland is a very close match to the one in California, the major difference being that the language in Tokyo Disneyland's version is Japanese.
Although this attraction lasts only a short time (it's about 2 minutes and 30 seconds), it's one of my favorites and I recommend seeing it if the lines are not too long. If you're going to be in the park until closing time, try to ride this attraction in the last half hour before the park closes as that's when the wait times will be the shortest.