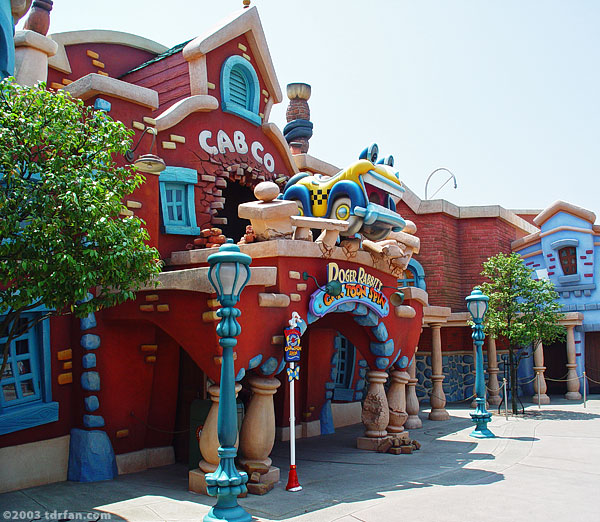 Roger Rabbit's Car Toon Spin takes you on a wacky cab ride down twisty streets and back alleys in a world inspired by the hit movie, "Who Framed Roger Rabbit?" Characters from the movie are seen throughout the attraction, and the plot of this attraction loosely follows the plot of the original movie (although you won't find any Warner Bros. characters like Bugs Bunny or Daffy Duck here).
Roger Rabbit's Car Toon Spin (note the interesting spelling) is something like Fantasyland's Snow White's Adventures or Pinocchio's Daring Journey, but with an added twist—quite literally. The cars have large "steering" wheels, which, when turned, spin the car around. It's similar to Alice's Tea Party, except you're on a track running through the attraction. I don't recommend spinning the wheel too fast—at least not on your first time on the ride—because you may miss some of the great scenes this attraction has to offer.
Roger Rabbit's Car Toon Spin is a lot of fun, and I highly recommend it. There is a little bit of dialog in the attraction that's in Japanese, but you don't really need to understand the dialog to enjoy this attraction. The queue lines tend to be long, but the queue area is so well themed that time waiting in line seems to pass quickly. The ride itself is about 3 minutes and 30 seconds.