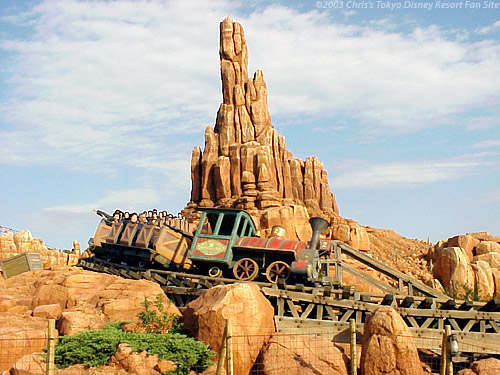 Big Thunder Mountain is a train ride—but not just any train ride. You're on a runaway train, winding its way at high speeds though a mountainous desert with bat-filled caves, geysers spouting water and steam, and an old abandoned mine.
This attraction is technically a roller coaster, but it can hardly be compared with an average theme park coaster. The Old-West scenery here is engaging and sometimes even breathtaking. Although the speeds the trains travel at are relatively slow when compared with roller coasters found at other theme parks, the fact that you're zooming through canyons, around desert rock formations, and in and out of caves (not to mention the wild desert animals!) puts the "thrill factor" right up at the top of the scale. Because you're moving quickly it's almost impossible to see all the little details on one or two trips, so just about every time you ride you'll catch something new.
Unlike most other attractions in Tokyo Disneyland, Big Thunder Mountain is not an exact copy of an American version. It's probably a closer match to the one in Orlando than the one in California. The ride lasts about 4 minutes—although it seems more like 40 seconds when you're on it!
If you guessed this is a very popular attraction you guessed right. On busy days the wait times can be quite long; a FastPass is highly recommended.