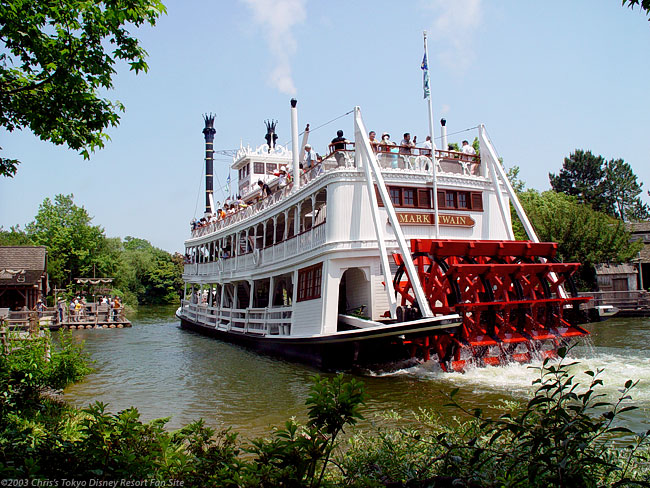 The Mark Twain is a paddlewheel-propelled riverboat not unlike the type that used to be a common sight on the Mississippi River 100 years ago. Tokyo Disneyland's version is smaller than those original boats, and instead of the Mississippi you cruise Tokyo Disneyland's own Rivers of America.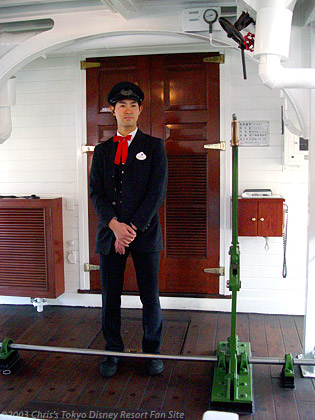 The river follows a scenic path around Westernland and Critter Country. You'll get some great views of a few of Tokyo Disneyland's most popular attractions, including Big Thunder Mountain, Splash Mountain and Tom Sawyer Island. You'll spot various types of wildlife grazing around the river, and you'll also find a village populated by American Indians (probably the only one in Japan). The boat has three decks; if you can find a spot to stand, I recommend the top deck on the left hand side of the boat for the best views of the park.
Tokyo Disneyland's Mark Twain Riverboat is just about an exact copy of the one in Disneyland in California. There is one curious exception though: While the Mark Twain in California will never be considered the most popular attraction in the park, the Mark Twain in Tokyo Disneyland is immensely popular, surpassing other traditional Disney favorites such as the Pirates of the Caribbean and the Haunted Mansion. Back when Tokyo Disneyland used to use attraction tickets, the Mark Twain was an E-ticket ride. If you're like me, you're probably wondering why this is so; I'm afraid I don't have a definitive answer. Perhaps the riverboat is thought of as something so uniquely American that it's irresistible to the Japanese, many of whom—in my observation—are enamored with American icons (Mickey Mouse being the supreme example).
The trip around the river lasts about 12 minutes. The Mark Twain and the Beaver Brothers Explorer Canoes are the only vehicles which will take you on a complete trip around the river (unlike California, which also has the Columbia).