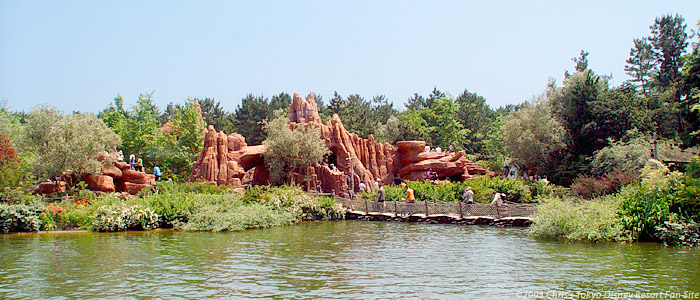 The Tom Sawyer Island Rafts take you on a short trip to—where else—Tom Sawyer Island. The island is located in the middle of Tokyo Disneyland's Rivers Of America (in fact if it weren't for the Island it would be the Lake of America).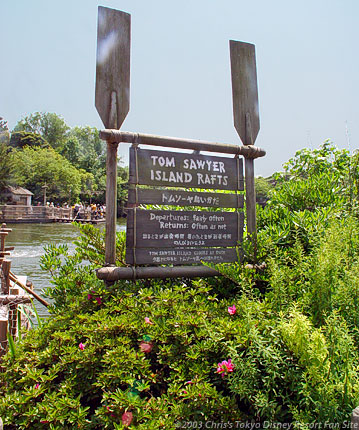 Tom Sawyer Island offers a wealth of fun things to do, especially if you're a kid (or a big kid, like I am). There is a tree house to climb up in, a maze of caves to explore, swaying bridges that are just a bit challenging to cross, and a large fort with an abundance of things to see and do. I used to love visiting Tom Sawyer Island at California's Disneyland when I was a kid, and I've found that I also love visiting it as an adult (although I do a lot less rock climbing now).
Even if you don't like climbing rocks and exploring caves, there is one thing you're going to like no matter what age you are: the milkshakes at the Fort Sam Clemens Canteen. You can get them in several flavors: strawberry, chocolate, vanilla or melon. I highly recommend them. Chocolate is my personal favorite, but my Japanese friends favor the melon flavored shakes.
The ride over to Tom Sawyer Island takes about two minutes. You can spend as long or as short a time on the island as you wish as the rafts make the trip back and forth to the "mainland" on a regular basis. The rafts cease operation at dusk, so if you want to visit this attraction make sure you do so during the day.
Important tip: When you arrive at the island, be sure to pick up an Explorer's Map of Tom Sawyer Island. They're free, and make great souvenirs. The text is in both English and Japanese.