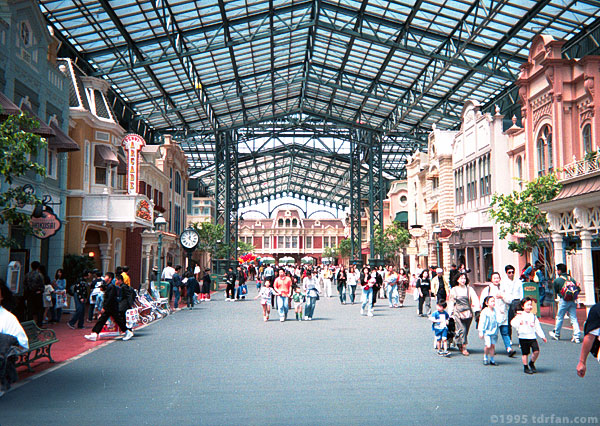 To describe World Bazaar, it's helpful to look at its predecessor: Main Street USA, at Disneyland in California. Main Street has been a part of Disneyland since it first opened in 1955; it is a recreation of what the main street of a turn-of-the-century small town in rural America might be like, and said to have been inspired by Walt Disney's home town of Marceline, Missouri. The buildings, cast member costumes, background music, and countless other details all contribute to this theme.
There are several significant differences between Tokyo Disneyland's World Bazaar and California Disneyland's Main Street USA (besides the name of course). The first thing you'll notice as you walk through Tokyo Disneyland's main gates is that there is no train station at the entrance to World Bazaar. Tokyo Disneyland does have a steam powered railway, but the tracks run through Adventureland and Westernland, and not around the perimeter of the Park like they do in California.
Perhaps most significant difference is that World Bazaar is covered by a giant Plexiglas canopy. The weather in Tokyo is quite different than in Southern California (or Orlando Florida for that matter), and the canopy provides refuge from Tokyo's frequent rain storms. This is a mixed blessing however; whenever it rains, World Bazaar becomes jammed with Park guests, to the point where movement is difficult. It doesn't seem to bother the Japanese guests—they're probably used to it from having to ride the commuter trains and subways during rush hour—but those who are not comfortable being shoulder-to-shoulder with lots of people might want to avoid World Bazaar during inclement weather.
World Bazaar does have a "Main Street"; it's the street that runs between the main entrance, and the end of World Bazaar that faces Cinderella Castle. But unlike Disneyland in California, there's a second street that crosses the middle of Main Street called Center Street. One end of Center Street exits to Tomorrowland, and the other to Adventureland, making Center Street a potential shortcut between the two lands.
There are many other differences between Main Street in California's Disneyland and World Bazaar at Tokyo Disneyland. Like the rest of Tokyo Disneyland, World Bazaar is quite a bit bigger than Disneyland's Main Street USA (World Bazaar is comparable in size to Main Street USA in the Magic Kingdom at Disney World in Florida). You won't find a Japanese restaurant in Disneyland's Main Street like you do in Tokyo Disneyland. Because of the canopy, the ambient noise in World Bazaar can be quite loud, especially when it's packed with people (and when a balloon pops, you'll know it). There are no vehicles running through World Bazaar.
Something people don't often realize, even if they've been to World Bazaar, is that the street has no real curbs. The "street" portion and the "sidewalk" portion are colored differently, and there is a white strip in-between them meant to give the illusion of a curb. This thoughtful design still gives the impression that you're walking down a street, but is an important safety feature considering the tremendous volume of people World Bazaar facilitates.
Here's an important tip: World Bazaar stays open an additional 30 minutes after the rest of the Park closes, so if you want to do some shopping, save it for after the Park's published operating hours are over. This will allow you to take in more of Tokyo Disneyland's attractions when the queue lines are at their absolute shortest (right before closing), and also give you time to pick up some souvenirs on your way out.