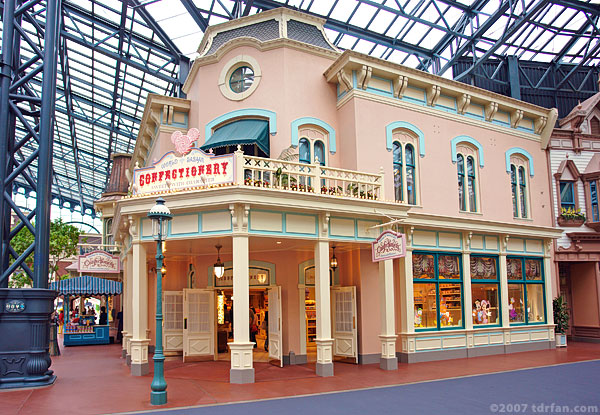 This is the store for those with a sweet tooth (like me). Selections include hard and soft candies, chocolates, small cakes, cookies and other sweet delights. Most of the packages have Mickey and/or other Disney characters on them. Some candies are sold in metal containers, and these make nice souvenirs even after the goodies inside are gone. Sadly, unlike Disneyland in America, they do not make any candies in the store itself.
This is a popular store. Bringing gifts from a vacation for your friends back home is a mandatory Japanese custom, and the items here make perfect gifts. In 2006 the store was expanded to about three times its original size, including adding a supermarket-style checkout area.
The Confectionery is located in the heart of World Bazaar, at the intersection of Main Street and Center Street.