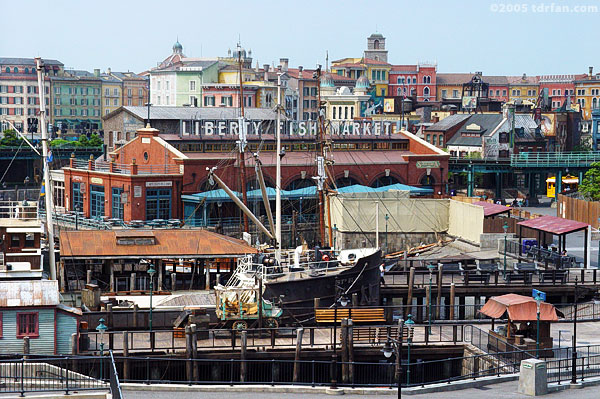 American Waterfront represents the northeastern seaboard of the USA in the early 20th century. It is actually two lands in one: an "Old Cape Cod" section, and a "New York Harbor" section.
Although American Waterfront takes up a big chunk of DisneySea's real estate, surprisingly there is only one major attraction, that being the Tower of Terror. Like a lot of DisneySea, the big attraction is the scenery, shops, and restaurants. American Waterfront boasts more places to eat than any other area of the Park. And while there are few rides, there are a couple of major show stages, the Broadway Theater and Dockside Stage.
Although it is not really an attraction, the S. S. Columbia is a large-scale model of a steam-powered luxury liner and American Waterfront's most prominent feature. You'll find a couple of restaurants inside the ship, but even if you're not hungry the ship is a fun place to explore.
American Waterfront is a beautiful area, and is a great place to eat, shop, and just stroll around.