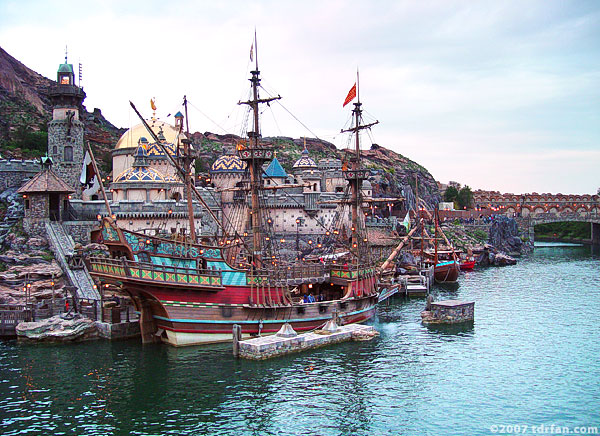 Fortress Explorations is sort of like Tom Sawyer Island meets Leonardo da Vinci. It's not really an attraction per se, it's more like a small "land" of its own where you are free to walk around and explore as you wish.
There are two areas of the Fortress Explorations: one is a castle fortress, with the second being a harbor dock with a full-size Spanish galleon.
The fortress area is my favorite. You'll discover multiple hallways linking rooms containing fanciful displays and activities ranging from the entertaining to the interesting to the educational. Although you can't really get lost, it's labyrinthine enough that you will have trouble drawing a mental map of the place until you have visited several times.
One room contains a large model representation of the solar system; planets can be moved independently by hand turning wheels connected to a system of belts and pulleys. One room contains a pool with miniature radio-controlled galleons that you can steer yourself for 100 yen. There is a life-sized flying contraption that you can operate and kids can climb on (don't worry--it doesn't really fly!). One room has a giant pendulum clock, and one of the outside catwalks has cannons which you can fire out into Mediterranean Harbor.
One thing to note: Fortress Explorations is technically located in Mediterranean Harbor, but it's a little difficult to find if you don't know where to look. It's located on the opposite side of the lake from Mediterranean Harbor's main shopping area. Walk toward Mount Prometheus, look for the Spanish galleon, and you'll find it.
Fortress Explorations is a fun diversion that all ages will enjoy. You can see as much or as little of it as you want. And one nice thing is that you don't have to wait in line to see it.