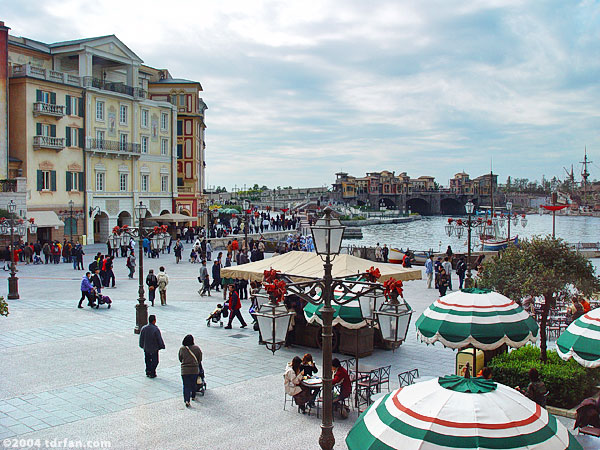 Mediterranean Harbor is Tokyo DisneySea's Main Street, USA, the grand entryway to the Park. You won't find many rides or attractions, but you will find the majority of the Park's shops and restaurants.
Mediterranean Harbor has two prominent features: One is a large lake on which the Park's biggest shows and "water parades" take place, and the other is the Hotel MiraCosta, a hotel built inside the Park. Although Mediterranean Harbor theming is sort of a generic "Old World European," my personal observation is that the design influences appear to be about 2/3 Italy, and 1/3 Spain. Since the oceans played a big part in these countries' histories and culture, they are logical choices for Tokyo DisneySea.
Shopping-wise, the mix of stores is similar to what you will find in World Bazaar in Tokyo Disneyland Park. There's a clock shop, a candy store, a clothiers, a stationary store, a camera shop, and a large, all-encompassing emporium. The stores have fancier-sounding names than World Bazaar (for example, the emporium is called "Emporio"), but the merchandise is of a similar vein. The restaurants, however, do have a definite European spin to their menus.
Mediterranean Harbor is significantly more spread out than World Bazaar, which is a good thing for shoppers. The crowds tend to gravitate more towards Emporio, leaving many of the smaller specialty shops (particularly the ones facing the lake) less crowded, even at the peak shopping period of park closing.
Mediterranean Harbor will be the first thing you encounter when you enter Tokyo DisneySea, and it does a magnificent job of setting the stage for the rest of the Park.