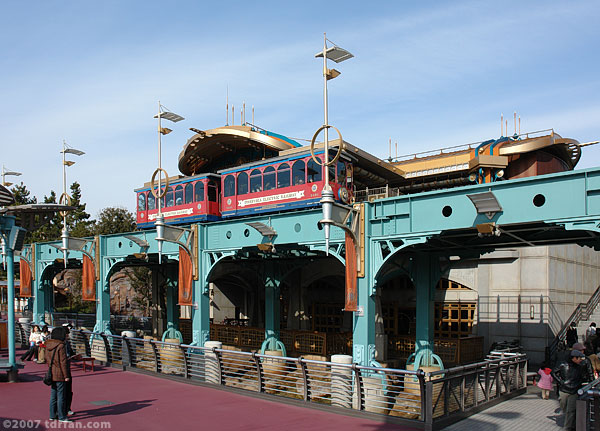 The DisneySea Electric Railway runs between the New York Harbor section of American Waterfront and Port Discovery. Unlike the Western River Railroad in Tokyo Disneyland Park, the DisneySea railway has stations at both ends. This means it serves a practical purpose, acting as transportation between the two areas of the Park.
The Port Discovery station is up on the "hill" area of Port Discovery. If you're down near the Aquatopia, the quickest way to get there is to walk up the stairway next to the Horizon Bay Restaurant. It's interesting to note that to my eyes, the design of the Electric Railway cars is such that they look as equally at home in the early-20th-century-themed American Waterfront as they do in the future-themed Port Discovery.
If the lines are not too long, I recommend riding the Electric Railway. It's a serene, no-thrills ride, and serves as a nice way to get a slightly elevated view of this area of the Park. Be aware that the trip is one-way only, so if you want to make a round trip you will need to disembark and get back on. In my experience lines are a little shorter at the Port Discovery station, so that might be the best place to board.
For more photos and information, visit the DisneySea Electric Railway page for American Waterfront.