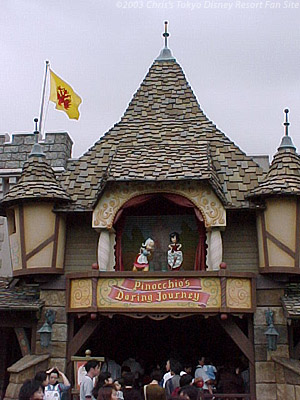 As you can probably guess this delightful attraction is based on the classic Disney move Pinocchio. You ride in a car (nearly identical to the one found in Snow White's Adventures) which takes you through the attraction; various scenes from the movie are depicted throughout.
Tokyo Disneyland's version of this attraction is a close copy of the one in California's Disneyland, except for two major items: the exterior is different, and the dialog in the attraction is in Japanese. The interior has a few other minor cosmetic differences, but for the most part if you've been on the California version of this attraction you'll be familiar with the Tokyo version.
The ride lasts about 2 minutes and the ride vehicles move fairly quickly, meaning that the wait times for Pinocchio are probably the shortest of any of the Fantasyland "dark rides." It isn't the most exciting attraction in the park, but if you're passing by and there's no line (which is often the case, especially later in the evening) definitely take a few minutes and enjoy the Daring Journey.